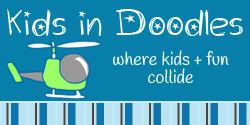 time again for another round of kids in doodles + for my share this week, check out my handy work the last i was too sleepy but simply won't go to sleep!
you know how us kids can be sometimes, we'd exert all effort just so we won't fall asleep. time is gold + there is just too many important things to do other that get those zzzz, right? i bet most kids my age will agree 😀
so what i did a few weeks ago, when mum was leaving me to my own at my playpen so i'd fall asleep ~ i asked her to have an impromptu pictorial featuring all my fluffy friends, who were just more than willing to pose in front of the camera
what can you say about our photos, don't you think tigger + fishy make for good models? i will share more photos with my other fluffy friends next time
posing for photos is surely a great way to pass the time away!
it is your turn now to share your kids in doodles stories with us. + while you are here, don't forget to check out the winner in our kids in doodles giveaway, too, right? 😉