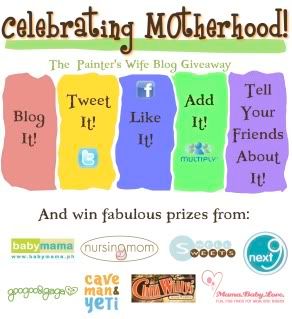 being fairly new in the mummy blogging universe, am always on the look out on which next lovely mummy blog to follow and is almost always excited to join groups and yes, contests and giveaways (even if i don't win most of the time, sigh!).
this morning while sifting through my mummy blogger list, i came across this contest from martine of dainty mom. celebrating motherhood -the painter's wife blog giveaway. lovely mummy and baby items (including a 3-pc burp cloth from nursingmom and a onesie or a t-shirt from googoo&gaga ) are up for grabs with a free GC to Chili Willy's Texas Grill (perfect for a night out with daddy, woot!) to boot!
to join just drop by painter's wife' blog and follow the easy steps, also don't forget to mention that i, jared's mum, told you about the buzz, when leaving your comment.
contest runs till 3rd of november, so what are you waiting for? time to win some goodies and cross our fingers and celebrate our motherhood!
cheers!