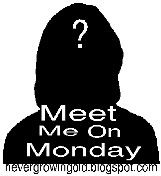 Questions:
1. How many pillows do you sleep with?
2. Where will you eat on Thanksgiving?
3. Would you rather go to a party or host a party?
4. How many purses (for the guys..wallets) do you own?
5. What is your favorite kind of seafood?
my answers:
1. i sleep with four large pillows and sometimes jared's baby bolsters and moo pillow join the party!
2. we do not celebrate thanksgiving here in the philippines but if we do i will most likely celebrate it eating a sumptious (i hope!) meal hear at home
3. i'd rather that i go to a party than host it, from what i experienced with my son's first birthday (which reminds me, i haven't posted it in its entirety)!
4. am not really a purse type of person cause i prefer to bring my backpack or my mailman bag wherever i go, and of late, the not-so-handy-dandy diaper bag that has all my son's travel essential. i would just put my stuffs in the dappy's bag pocket for convenience.but here is a preview of my new diaper bag i ordered from indigo baby!
photo courtesy of indigomanila
5. my favorite kind of seafood is tuna!i can eat everything tuna, tuna belly, sizzling tuna, and yes even fita in tuna flavor used to by my staple. can't get enough of it:)