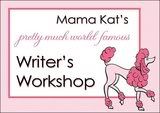 The Prompts for this week:
1.) Look up a favorite childhood actor and tell us where they are now.
2.) A post you regret publishing.
3.) If you had made a career out of whatever you were passionate about when you were ten…what would you be doing?
4.) A hair disaster.
5.) Describe a moment when you saw someone hit their breaking point.
i chose the first prompt and have decided to look up for Ralph Maccio, my ultimate favorite actor in my childhood days! and who wouldn't like Daniel-san, he is simply adorable and cute (okay stop giggling now!). the Karate Kid has another sequel with him on it, and i couldn't count the number of times i've watched and watched it again, even as an adult. The iconic film was remade last year (or was it this year?) with Jaden Smith as the title role, but i can't help but think that i still prefer the original (no offense meant), blame it on that giddy, little girl..
of late, Ralph Maccio was Archie Rodriguez in Ugly Betty.
it's your turn to choose and prompt and don't forget to link with Mama Kat's and give some comments to others on the link as well…