at least here in jared's little corner that is. we were able to purchase my

baby's very

first christmas tree. it's a

6-foot

, slim type tree, tall enough to last till jare's 20th birthday perhaps (quite an investment, don't you think? *wink*)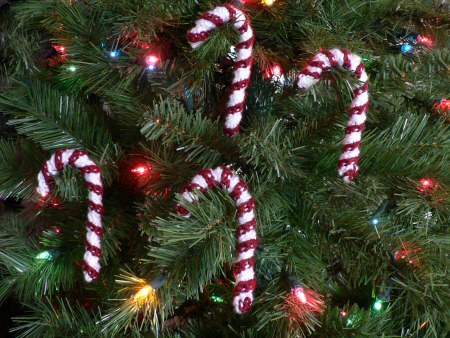 thanks google for the photo
originally i was planning to put colorful stockings and cane (see photo above) to my baby's tree, since i want lots of colors in it to really capture the feeling of christmas and to make it an eye-candy for my baby, but inavailability of such decors and ornaments in SM Marilao forced me to veer away from that design i had in mind and think of something else and quick! i settled for a blue and silver motif, since blue seems to be our favorite color and silver would still attract jared's attention due to the shimmer and shine.
so daddy and i, with jared along, and the helpful sales lady in tow round up the racks of christmas decors and ornaments in search for the perfect ones for our christmas tree. finally we decide on these lovely flowers in shades of pale blue and silver, balls in the same shade and some wrapped in glitters, and the led lights to give glow to our tree.
sorry for lack of documentation, but i was way too excited to put up the tree when we got back home that i never had the chance to take pictures of the process..
mind you, i put up the tree and hung the ornaments on my own. jared, ken and cel looked on, leaving me to work on my own.
so here is the finale..my very own work of art (i still have to put a star on it and add some more ornaments though)!
let the christmas countdown begin!