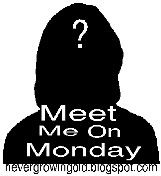 1. Have you ever been on a cruise?
2. What is your favorite way to eat eggs?
3. What is your favorite reading material?
4. Name all the pets that you have ever had?
5. Were you ever a girl/boy scout?
My answers:
1. I have been on a cruise ship when i was on my second job. it was a seminar on-board a WG&A Superferry, a roundtrip from Manila to Cebu. the best thing was it was my first time to go on a ship cruise and i was very delighted, it was a terrific experience. the downside though is that the seminars are held during the day and we didn't have much time to sightsee in the mornings when you can have the best view of the sea, and if we are ever lucky, dolphins! we were not able to explore much of Cebu City, either, since the ship docked for only 2 hours i think, so we hurriedly took a trip around the metro to see as much as we can and off we are again..i would love to take one again if time and my pocket will permit and would gaze like mad at the sea each chance i get to see lovely sea creatures!
2. no other way to have my eggs but sunnyside up!
3. i love books: the Harry Potter saga, the Shopaholic series, Coelho's haunting creation, Albom's emotional and melancholic tales, parenting books and romance novels. i don't have the luxury to spend most of my time engrossed in a book since motherhood has taken a good deal of my time, and am not complaining, but i still try to get my hands on as many books as i can. plus i also obsessed on SmartParenting Magazine, which i read with my son.
4. my memory will fail me on this one since we've had quite a few pets since childhood, mostly dogs and only had a cat, Tammy, but will try my best to recall them. Our very first dog was Lassie and a friend of mine gave me my very own pet dog, Glenn when i was in college. then we had Lia and Glenn gave birth to Nick and four other lovely puppies which i have the misfortune to forget the names. i think we also had a dog called Mark. i have to check with my siblings for their names! (blame it on my post-c section memory!)
5. i was a star scout in the elementary days and went on to be a Girl scout till the last year in high school. i love being one, i got to participate in many different activities like camping and got to meet loads of other kids. sometimes, i surprise myself when out of the blue i would just sing the Girl Scout Hymn of my fifth grade self!
now it's your turn, just click on the image to link up with Meet Me On Monday!