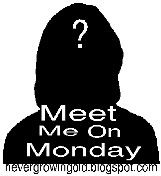 questions:
1. What is your favorite way to eat potatoes?
2. What was the last package that was delivered to your house?
3. What is your favorite scent that you love to smell?
4. Do you smoke?
5. Are your parents married or divorced?

my answers:
1. i simply love potatoes – amongst my fave are french fries, potato salad + mashed potatoes
2. my copy of "becoming a woman of influence" by carol kent from navpress. wrote about it here.
3. i love the smell of freshly laundered clothes + linens, and the smell of my human ♥ nature's sugarcane + mandarin hand sanitizer!
4. don't + never dreamed of trying!
5. my parents were married for 29 years before they were separated by the demise of my mum on 03 february 2007, but the separation wasn't that long, my father followed my mum to the great beyond several months after on 28 may of the same year.