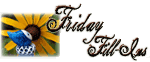 1. I love to walk with bare feet on hot white sands.
2. I have a foolproof way of chasing stress away, I break into a song and a smile.
3. It's how you play the game that matters more that winning the game.
4. I'd rather hear the truth than deal with the agony of the depth of the things you don't tell me!
5. Well, would you be kind enough to give this poor mum a break she deserves.
6. Too bad we do not celebrate spring here, too much for spring peepers.
7. And as for the weekend, tonight I'm looking forward to reading this new paperback i recently bought, tomorrow my plans include going to the groceries with my son and Sunday, I want to visit my parents graves!