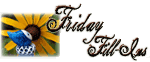 And…here we go!
1. I can't believe
the month of march is officially over
.
2. Blogging, come to think of it, is really not for everyone.
3. How can I go to iblog7 with my baby has been my in my thoughts this fast few weeks, in the end i just had to decide against it altogether, will just be watching the livestreaming instead.
4. Adobong manok (that's chicken cooked with soy sauce + vinegar, a very famous filipino dish) was the last thing I cooked.
5. Six of one is synonyms with half-dozen of the other.
6. Cosmetic surgery; nonono!
7. And as for the weekend, tonight I'm looking forward to catching up on my blogging, tomorrow my plans include taking jared to my parents' grave for a visit and Sunday, I want to go to the pmc grand eye ball in megamall!
find our fill of more friday fill-ins here!