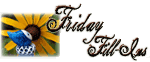 1. Pardon me, i have been silent in this corner for quite some time.
2. Buying 2 items for the price of one is always good deal.
3. I was surprised to find that I really like being busy, tiring + all, but I kinda like it.
4. Reading paperbacks is one of my favorite forms of entertainment.
5. Hi, my name is vix and I'm jared's mum.
6. I always crave for halo-halo (that's a local dessert with loads of mixed yummies!) on hot and humid summer afternoons.
7. And as for the weekend, tonight I'm looking forward to finishing all my blogging back-logs, tomorrow my plans include setting up the inflatable pool finally and Sunday, I want to chill, relax + take it easy!