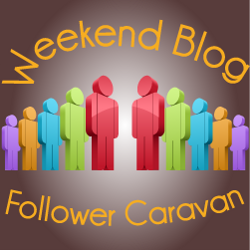 if you are new in this site, welcome + i hope you enjoy what little time you spend browsing through our simple lives + daily misadventures in this little corner. i love reading comments (+ yes, i do try the hardest to respond to all of them, either thru here, or by going to their respective sites) so i do hope you leave some for me to read + moderate, + if it wasn't too much, my google friend connect widget is just somewhere there in my sidebar + do give this mum a favor by following. i will be sure to follow + stalk you back (no, that isn't a threat, so don't be scared ;))
wbfc is a weekly blogger-helping-other-bloggers weekly meme design for bloggers to help out each other gain blog followers, either thru google friend connect or e-mail subscription.
more caravan entries? just click on the badge + enjoy!