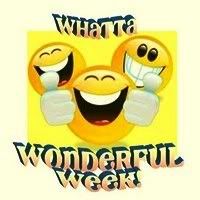 last week's wonderful moments:
just like that and march is long + gone, and 10 days off the month of april is ticking by each second – time flies – sometimes, even faster than we wished it would be.
mid of last week was my son's 19th month birthday, yep, i never got over the habit of counting down the months since he was born that it stuck even after jared celebrated his very first birthday ( i guess i'll keep counting till i can recall how old he is in months!). in celebration i just mean reminding everyone in the house that my baby turned a month older + greeting him on my fb wall, nothing really fancy!
i got paid for several articles i wrote + am $40 dollars richer by month-end, i guess that made my paypal account shout hurrah! 😉
i also got the
shirts
i ordered from kcat on friday. i did
write
about it in my other blog, i ordered several shirts in support of her fundraising drive for an open-head surgery to remove tumors that's making her right eye bulge. it feels good to buy a new shirt + it feels even better that i was able to help (however minute it could be) her while doing so. we totally loved the shirt + plans to buy again soon. i will post a photo of them in my other blog too.
on sunday, it was the weekend every pmc member is waiting for, the grand eb is on. trooped to megamall that hot summer afternoon (sans my little man, since i decided to leave him to his tito at home), i was several hours late, since 10am is the agreed call time, i arrived to kamayan by 1pm, i think, + was greeted with familiar faces. it was several hours of endless chatters, making new friends offline + camaraderie. it was such delight that i've discovered this angel of a group, kudos to my good friend, vance, for telling me to join. the dream of meeting my online friends has now become a reality + i enjoyed the encounter very much, not to mention the hearty food + the lovely tokens i got to take home after the event. we agreed to meet again in november when mommy rubz will fly to manila with his kids to celebrate her son's birthday. i shall be looking forward to that one with much anticipation, too!
't was some week, really + to think i was even pining last saturday over not being able to attend iblog7, oh well, maybe i'll get luckier with that next year…
so how's your weekend? here's wishing it was fun, exciting + enriching just like how mine was…
click on the sunny, yellow badge for more wonderful weekly recollection! cheers!