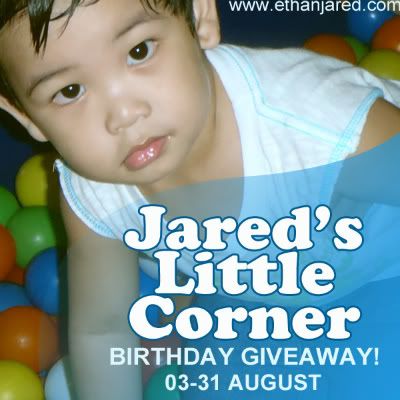 hello to all! this is just to update everyone about my birthday giveaway!
we now have 420 entries so far + we've also had these updates since our giveaway started in 03 august:
added the badge of Jeff Aspacio's Life as Experienced Daily in the major sponsors' list + added working mama in the general sponsors
fixed the links for Corsame Lane, Techie She,  GEORYL: Welcome to Our World + added new sponsors The Food and Travel Buff + Hot Fun Stuffs
informed that sponsors to this giveaway are also welcome to join the contest
fixed the linky for Hot Fun Stuffs (something gone awry again with the linkies thanks sis Divine for the heads up ). + changed the Tweet message to "Join Jared's Little Corner's Birthday Giveaway! http://bit.ly/qxkA0R" + tag @vixquips"as well
added Pinkvillle: Pink and MTG Convergence Zone as another sponsor to our giveaway
if you happen to be one of the entrants prior to these changes, please update your entries accordingly + buzz me using my contact form. there will be no need to fill out the giveaway form again, mum will update your entries automatically when you send a message. so without these notes, we will base your additional points (for doing additional tasks) on the number of corresponding sponsors that are actually included in your giveaway post (we will be assuming you have not liked a sponsor's page or followed that sponsor via gfc or google +1 if these sponsors are not indicated in your giveaway post! for example, i have added the link to PDA + an additional task of liking PDA's facebook fanpage, if the link to PDA is not in your giveaway post, we will assume that you have not liked their page, either).
one more thing, please be informed that i moderate my comments + inappropriate one-liners or irrelevant comments will not be approved. i hope you leave sensible + relevant comments, especially if you want to vie for the top commenter's prize. this is to be fair to others who leave all those well-thought-of comments + actually reads the posts 🙂 here are the top 3 commenters as of today (i still have about 80+ comments to browse through + approve, so this is just a partial tally):
well, enough said. we have a few more days to go before the giveaway ends. $100 Paypal Cash awaits the grand winner, so please keep those entries coming + tell your friends about it, too!
thanks + have a great wednesday everyone! 🙂