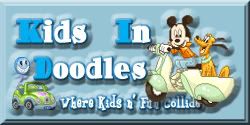 time for kids in doodles once again + sorry that it will be up a day late this week, mum + i were both dead tired yesterday to even go online + update this corner. will tell you more about it soon, anyway, on to today's K.I.D 🙂
the first time mum met up with her fellow postcard collector was also the first time i've ever seen one of these things + curiosity, of course, got the better of me that i went ahead + touched it! mum told me it was called a typewriter + back when computers are just a thing of the future, typewriters are what people used to create documents + school projects.
i thought it was pretty cool, it made this very interesting sound whenever you press on a button, it has all the letters of the alphabet in it + also has this cute swinging things that swayed forward whenever you press a key! mum said we used to have a portable typewriter at home which she used for school projects + to practice on her typing skills.
of course, it wasn't only me who's curious about this "new" machine, bella, a daughter of one of mum's friends + my new playmate, was playing with the typewriter first before it caught my attention. sorry for the blurry photo, mum was having a hard time photographing two excited + rowdy toddlers 😉
now, it is your turn to share your K.I.D stories with us. for the newbies, check here on how to play this game. don't forget to link up with us + hop on to as  much entries, leaving lovely comments along the way, to make this meme doubly fun! 😉