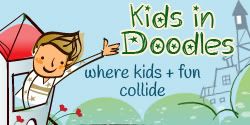 hello there, it is time for another round of kids in doodles stories + sorry that we are posting this entry a bit late, mum was not feeling so well yesterday 🙁
anyway, i am sharing with you one of  my favorite things to do whenever we are out in the mall ~ riding those fun trolleys! i sure enjoy it a lot whenever mum rent me on of those trolleys so i can play in it while the grown ups shop around. i especially like those car-like trolleys, it makes for one wonderful pretend play + i pretend to be a race car driver driving my car around the vast shopping mall!
aside from me having loads of fun, it also saves mum+ my tita the trouble of caring me around all day. i know, they'd complain of aching muscles after carrying me for a few hours. i am quite a heavy boy, see! plus, there is also a part of the cart that is made to carry those heavy shopping bags, too. that is why it makes moving around from shop to shop so much more convenient.
although, i enjoyed a lot, i was not able to ride a cart the last time we went to the mall. i guess, i really growing up cause i prefer moving around a lot,browsing through the items in the bookstore or the department store, instead of riding a trolley or being carried around 😉
thanks to tita mirage for the delightful linkie button 🙂
what are your kid in doodles stories? 😛  don't forget to link up + visit the other participants as well!