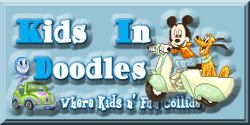 i know that this corner has not been updated as much it should be, truth is i was not able to post k.i.d. last week, but mum left the linky for last last week's meme open for more than 7 days so you can all catch up. it is open for the next 2 days, so you might as well join in! 😉
anyways, today i am sharing with you one of the improvised toys that i have found in my mum's stuff ~ rubber stamps! i am glad mum allowed me to play with this pink things that has colorful illustrations in them, including a boy + a girl, a camera, some words, a tv, a book + a camera.
i love playing with them, lining them up on a straight line like a choo choo train or building tall towers by stacking them up, one after another. mum helps me in this but often times, the stamps tumble over after we've stacked 6 pieces together. maybe they are just not made up for that kind of game, but i love them all the same. 🙂 
i just enjoy this improvised toy, they keep my little hands busy + mum said they also make for a great educational toy, as i also count these rubber stamp blocks during playtime!
your turn to share one of your improvised toys, too, or any other doodle stories you might have in mind. add one of the colorful badges i've got here, link up + visit other participants so all have loads of fun!
happy rainy monday to all! 🙂