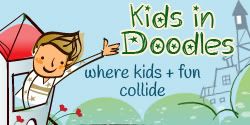 mum, tita isabel + i went to moa 2 saturdays ago to check out the robot zoo! + to say that i had fun is really an understatement, i had a blast! i love animals, so i was really amazed when i saw these huge animal robots, as well as learn about a lot of so many things! among the big robot animals we saw are ~ giraffe, chameleon, grasshopper, platypus, bat, house fly,  + squid! we are also taught how some body parts of these animals work! i get to push a few button to make the chameleon's body move! how cool is that? 😉
aside from the wonderful animals, i also get to try out a lot of cool games, including this one which is called jet propelled, which should also be called the racing squids, for obvious reason. you get to push a lever to get your squid moving + the first squid to reach the finish line wins the game. i was no match to the older kids who seem to have mastered the game earlier on, but it was really fun.  i have also get to try a dozen nuts + bolts + levers!
there was also a small program after the robot zoo tour, where kids also get to play fun games. i was just having fun while my group is busy assembling the longest line possible so we can win the game. we were not lucky, though, but were also able to bring home nice nickelodeon goodies. 🙂
there are really a lot of wonderful things to discover in this place + i bet a lot of kiddos, with their parents in tow, shall be flocking here soon. if they won't budge, you can always show them my photos for them to see how much you are going to enjoy the place, ayt? 😉
sorry if i am posting this week's doodle a bit late, mum + i have been busy. my birthday is due in a few week's time + we're busy looking for the perfect place where we can have my simple celebration. am sure mum will let you in on her plans in her blog, so make sure you pay her a visit as well.
don't forget to link up by placing one of our doodle badges on your post + visit the other participants, too. mum will be visiting last week's participants within the week, too, so don't get mad just yet!
oh, i have also been visited by the fairy hobmother, by the way, so make sure to check out my post to know how you'd get a chance to have fairy dusts coming your way, too! 😉
image credit goes out to mommy peachy, for the second group of photos with ate ykaie + to mommy karen, for the last photos with the pmc kids + pretty kiat-kiat! ^_^