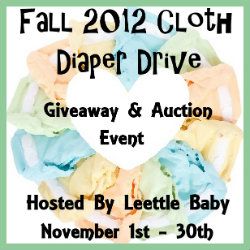 Fall 2012 Cloth Diaper Drive – Supporting The Tomahawk Sustainment Mission. . . 
here is another interesting giveaway sign-ups i bet you would love to be a part of. this time around Leettle Baby will be hosting the Leettle Hands and Feet Fall 2012 Cloth Diaper Drive, that runs from 01 ~ 30 november 2012. what's more interesting is that they are not only giving away a stash of cloth diapers to lucky winners , but there will also be charity auctions in efforts to raise money to start a cloth diapering program that will benefit at least 500 babies in the impoverished areas of the Kentucky Appalachia!  
sign up to get a FREE link if you are interested in participating in this giveaway hop event, deadline is on 30 October!
sponsors for the giveaway + auction are also still wanted, please contact Alanna at leettlehandsandfeet@gmail.com for more information.
event details:
♥ giveaway runs from 1st ~ 30th of november
♥ you get a FREE spot when you make an announcement post, pay up $5 for 2 links + $1 for each additional links or you may also opt to host follow pages for $10
♥  prize includes a cloth diaper stash + accessory package + more. check out the sponsors + the prize listing here
sign up at LeettleBaby!