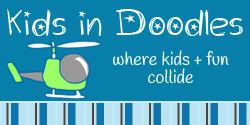 it is a monday once again + it is time for another round of doodles but before anything else, here is a round up last week's kids in doodles participant:
♥ read about sam's 7th birthday celebration
♥ check out another birthday celebrant in iris joehanna's world
that out of the way, time to share with you about our topic for this week: happy halloween! 
 i bet every little boy + girl like me are in a frenzy because of the halloween. have you gone to many trick or treats already? have you decided which scary or fancy costume to wear? i've gone to one whimsical halloween party over the weekend + i've seen superheroes + princes + princesses at the party. a halloween party without anything to scare any kid out is quite a welcome break! too bad we were not able to get a costume for me since it was raining most of the time last week + we were not able to check out shops to buy anything. so i just wore my favorite lightning mcqueen shirt to the party. check out the fun photos mum took 😉
i particularly had a wonderful time. the place is really magical. they have beautiful drawings of a car + a bus on the wall, which i can help but check out again + again! i also enjoyed dancing to the beats that were playing all through out the party +  had a lot of fun playing with other children, as well, even when i was not officially joining the parlor games 🙂 even mum had a grand time decorating our halloween cake! i even get to take home a pumpkin basket full of goldilocks goodies! 😉
if halloween parties are this fun, i think i can get used to them! 😀
time for you to share your stories about halloween + if you have photos of you in fun + scary costumes, feel free to share that, too! do not forget to include one of the badges here on your post + to link it up with us. visit our other playmates, too + do not forget to leave comments on their doodles, as well!
that's about it. i shall wait for your posts then + happy halloween boys + girls!