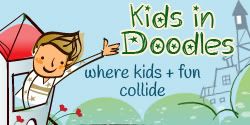 doodlers round-up
here are a few of the things you ought to check out on our last week's kids in doodles:
♥ this awesome dragon drawing by baby rj
♥ the smart boys' corregidor island adventure
♥ all about mama tess, who is maithankfulheart's favorite person
thanks guys for joining, we really had a wonderful time reading about your posts! 😉
now on to this week's kids in doodles. remember that we've put a playful twist + came up with weekly theme to make our game interesting? for this week our theme will be:
how was your weekend?
we really a very eventful weekend last sunday. we went to the block in sm north to check out the newly-opened jamba juice branch. i was excited 'cause did not tell there'd be a fun play area for little ones like me! i really had a wonderful time going up + down the slides one too many times! mum helped me to the slides on most occasion, other times i am climbing it on my own! 🙂
i've also tried the trampoline, although it made me feel queasy that i only tried it for a few minutes. mum + i tried the blender bike, too, although i cannot try it out on my own since my legs are a bit tiny for the bike + i cannot reach the pedal just yet. hopefully in a few years time, i'd be able to ride that bike on my own!
i have also tried jamba juice for the first time + i'd say it did taste good! although i only had a few sips + cannot possibly finish a whole tumbler on my own, i would love to have some again soon!
too bad we only had to stay for an hour with jamba juice as we have another event to go to!  mum, tita + i headed to the qc memorial circle where mum's postcrosser friends are meeting up for their regular eye ball. i shall share more of that in another post. 😉
your turn to share your doodles! do not forget to include one of our badges found here + hop on to all the other participants. also, make sure to add social share buttons to your posts as mum would really love to share your fun doodle posts 😉
that's about it for now. enjoy the rest of your tuesday! ^_^