(design by "thetruebookaddict.blogspot.com/)"
This week, I'm going to give you a choice of fill-ins OR a different kind of fill-in (or both). A friend emailed me a list where you have to identify Christmas songs by the initials of the first words of the first line of each song. Each Friday until Christmas Eve I'll post 9 more of these songs and if you'd like to play along, great!


So…here we go!
1. The best thing about a birthday celebration is it is a great way of celebrating and thanksgiving for another year in your life.
2. a mother's love will not fade even through the passage of time.
3. I went shopping recently and the most interesting thing I bought was my earthpocket diaper bag.
4. playing seems only just a child's game but it does foster learning.
5. The reason is my favorite hoobastank song.
6. i prefer this kind of weather than snow and cold.
7. And as for the weekend, tonight I'm looking forward to sleeping tight after a whole day of home chores, tomorrow my plans include resting some more and Sunday, I want to go out and enjoy the sun!
AND/OR
1. HYAMLC: have yourself a merry little christmas
2. TFNTADS:
3. GRYMGLNYD:
4. ICUAMC:
5. SNHNAICAIB: silent night holy night all is calm all is bright
6. OTFDOCMTLGTM: on the first day of christmas my true love gave to me
7. DTHWBOHFLLLLLLLL: deck the halls with boughs of holly fa la la la la la la la la
8. YBWOYBNC: you netter watch out you better not cry
9. JTTWTLHC: joy to the world the lord has come
if you want to try your shot (or if in case you want to help me figure out the rest of the christmas songs puzzle!), do swing by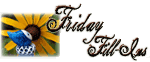 happy weekend!