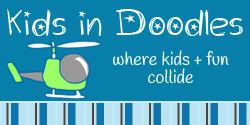 it is that time of the week again for another round of
kids in doodles
, but before anything else, here's last week's:
doodle round-up
check out these cool balloon doodles from our new playmate henry
look at this cool bag MaiThankfulHeart found
let's count all the stars vince crispaul got from school
now on to this week's doodle topic: it is almost christmas
it is almost christmas here at home as mum puts up our christmas tree a few weeks ago. of course, i wasn't much of help but i provided the entertainment as mum worked on our tree. i also made sure to have my photos taken with it once it is up 😉
oh i helped mum put these two bears together since i thought they'd look good beside each other.
mum also placed a lone gift under the tree. it was
tita
's gift for one of his godchildren, robyn. i wanted so much to open it, but mum said it wasn't mine and i have to wait for my own gift and until christmas day until i open them. 😀
share your doodles with us. do not forget to include one of these badges and visit as many playmates as you can. also, do not forget to install those social plug-in widgets as mum will share your posts on her networks when she blog hops!
happy monday and go work on those doodle posts now! 😀