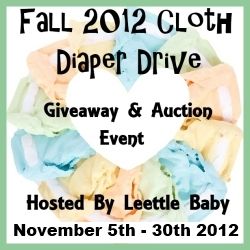 little ones like us can never have too many diapers, especially if you're using cloth ones, as we are always in need of them. + unless we are all potty-trained, our mums need an ample stash of these dappies in our drawers ready to be used at a moment's notice. on that note, i am all psyched to share our new giveaway. read on for more details:
Welcome to the Fall 2012 Cloth Diaper Drive Giveaway & Fundraising Event hosted by Leettle Baby!

Last spring, with your help, we were able to send 30 diaper covers and 30 cotton prefolds to the DFW Cloth Diaper Project.

This time around we would love to make an even greater impact. For this event, we would love help the Tomahawk Sustainment Mission in their efforts to expand their cause to begin a cloth diapering program that will benefit the people living in the poverty-stricken Appalachia region of Kentucky. The founder, Terri, has estimated that there were 500 children that could benefit from this program.

DID YOU KNOW? The Appalachia region covers 13 different U.S. states, encompasses 420 counties and includes 25 million people? Sadly, some of the most distressed areas have 150% poverty rate over the average U.S. rate.


Why Cloth Diapers?

As many of us parents know, diapering our children can cost us a fortune. According to the Real Diaper Association, using disposables costs a family about $66 dollars per month, and about $1,600 for the first two years. Now imagine if you had to decide if your family was going to eat or spend money on buying more diapers. Some families even have to re-use their babies DISPOSABLE diapers because they cannot afford to buy more. The wonderful thing about cloth diapers is that you do not have to worry about purchasing more diapers and you can always have clean ones readily available! With this diaper program, these families will not have to spend a penny on diapers for their children.

In addition, disposable diapers are not compostable and are estimated to take 250 – 500 years to break down! Now imagine if you did not have a trash service to remove those diapers (like some of those living in the Appalachia area)…where would they go? Cloth diapers provide a more sanitary option to the environment and reduce landfill waste.


How You Can Help

A donation in any amount is greatly appreciated and is tax deductable.

There are quite a few other ways that you can help us get as many of these precious children cloth diapered as possible, just click HERE.

As a thank you for spreading the word about this cloth diapering program, Leettle Baby and a team of amazing bloggers are going to reward you with an awesome giveaway…with the opportunity to win one of the two cloth diaper prize packages!

Grand Prize

** Jona from The Little Bee Co. has graciously offered to send one Bee Changed Diaper for EACH one purchased during the diaper drive event, make sure that you put "LoveAppalachia" in the comment section when you order! Shop HERE! **

Lamb Babies
Choice of Fitted or One-Size Cloth Diaper (valued at $19.00)
Green Bees
2 One-size Diapers (valued at $16.00)
Rock In Green
45/90 Load Bag of Detergent in Choice of Scent (valued at $14.95 – $15.95)

Second Prize

Funky Fluff
1 One-Size Cloth Diaper (valued at $18.40)
Glow Bug
1 One-Size Cloth Diaper (valued at $12.50)
Smart Snugs
NatureSnug™ Bamboo Diaper (valued at $18.00)

Thank you to all of the wonderful sponsors above and to the following blogs who have already helped build a stash of cloth diapers to send to the Tomahawk Sustainment Mission!
giveaway is open to us residents (us & canada residents for second prize) ages 18 and older only, + shall run from 05 november 5th until   21 november, 2012. winners will be notified by e-mail provided by the rafflecopter form and has 48 hours to claim prize before another is selected. join now + kindly wait for the rafflecopter widget to load so you can submit your entries!
good luck! 😉