it's a friday again, mummies time for one of my favorite blog memes, friday fill-ins…here we go!
1. Up next is my article on vegetarian life.
2. due to the bus explosion in makati recently and news on accidents here and there, fear and dread are the emotions going around.
3. Coats and scarves, mittens and boots: swimwear and bikinis, henna tattoos and flipflops.
4. i really need a nice back rub.
5. I'm thinking about ways on how to monetize my blog.
6. i really would love to be in sm megamall later for the grand baby company fair.
7. And as for the weekend, tonight I'm looking forward to just having a lazy friday night whilst watching my son's favorite pocoyo video, tomorrow my plans include going to an eye doctor to have this nasty splinter lodged in my eye out and Sunday, I want to just chill and visit the neighbor's monkey with jared!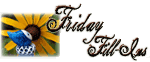 simply click on this badge to link up, happy weekends everyone!